releases
I Am Back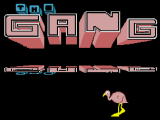 Release date: 2003-11-30
Platform: Amiga
Released at: Dreamhack Winter 2003
Download count: 12250

The first Amiga demo by Chucky in 10 (!!!) years.
3:rd place in the Oldschool/Alternative competition.

But thats not all, this release is open source!!! Download the archive containing full scource and all needed datafiles.

Run it on a real Amiga. It works but not well in UAE.

Amiga executable (475 KB)
LHA containing full source (582 KB)
DivX Video (58674 KB)
ZIP-file containing music (181 KB)