releases
GangEd 1.0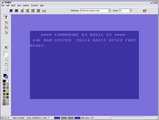 Release date: 2005-08-13
Platform: PC - Win32
Released at: GREP 2005
Download count: 18069

GangEd is a C64 data and graphics editor. Released at GREP 05 in Skövde and came first place in the Wild category.

After more than a year of irregular work we are proud to release it to the public. We are sure there are a lot of bugs (nice features) somewhere in there and therefore we want you to report them to us. Please send an email to and let us know what you think about it...
Remember to read the help file for more information about functions and features.
GangEd 1.0 - GREP Release.zip (686 KB)
GangEd 1.0.1 (Latest) (710 KB)